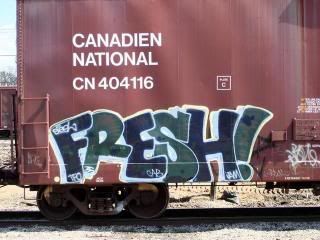 Coming up in the Hip Hop game via Graffiti aint a bad way to go about things when you might not look like the 'typical' MC (See Kid Acne). Gaining respect for your throw-ups must give one the required qualifications for making the transition from having your name known to getting your sound out there.
Seel Fresh
is one such cross-discipline artist who is doing his thing in Chicago right now.
Before this morning I'd never heard of him (and you can't blame me, I live in Yorkshire, UK!) but now, a few hours later, I'm sat in my chair making moves very similar to those Seel makes in his video for '
Drinkalot
' (ya know, white boy Hip Hop dancing and gestures). Whilst I don't exactly agree with the man and his endorsement of mixing excessive amounts of alcohol I can't help but love the beat and his simple, fresh and fun flow. It's this type of music that enables me to massively enjoy a night out without drinking. Here's the video which was just released today
If you're feeling this then you should check out his album 'Trife Life' which includes 'Nickelpimp', a song all about scrimping and saving and other more illegal ways of getting loose change, 'Midwest Monsters', a bluesy number which features Juice; a tune about where they're from and how they do and 'Gifted', a track that boasts Thirstin Howl III and Rack-Lo as guests on which they boast about how good they are. Classic rap fair then; criminal activity, money making, ego building, alcohol fueled party music but all done with a bit of a cheeky grin.