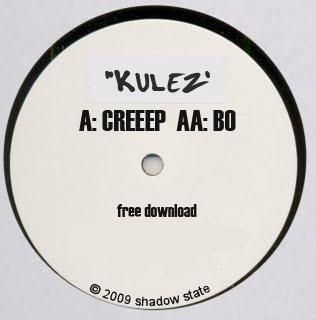 I'm back with more!
Kulez has dropped this free download featuring the menacing 'Creeep' and the hyperactive 'Bo!' on which he flips some skateboarding vocabulary.
Download it here
.
Mr. B rips up an old skool beat on his free download
'Step Up To It (Mr. Brown)'
which can be downloaded at Bandcamp. James Brown gets sampled one more time whilst Mr. B makes himself known.
Check the video here
.
Wizard dropped a new beat tape called 'Massage Parlour Music' which can be
downloaded here
.
North Easterly producer
Sermstyle
has also dropped a free download featuring his beats but this time some big name US MCs are riding the beats. Expect rhymes from Jadakiss, 50 Cent, Eminem, The Game and more.
Download it now
.
If it's video type stuff you're looking for then Doc Freud and Gadget have
'Lost'
, the Organix heads have them
live in the centre of Bolton
annoying the shopppers no doubt, Jaisu's got his
sixth beat tape
for you to watch (always entertaining and inspiring) and Jah Digga's got
'Black and Proud'
up on youtube for you all to earpeep.